i just made the best soup i've ever made. as well as the best soup i've ever eaten.
nutty vanilla sweet potato kale soup
, thanks to the awesome
kath
. seriously, this could not be improved. i even went back for seconds, without feeling guilty
. i was wondering whether or not this would freeze, but i'm not sure i will even worry about that, because i will be happy to have this every day for the next few days.
nutty vanilla sweet potato kale soup, served with whole wheat naan
something around

** 3.5 starch, 2 protein, 2 veg, 2 other **



i still feel a bit like i shouldn't be allowing myself to
overindulge
enjoy my food like this. but today was a good day at work, so that helped my mood a bit.
while picking up my soup ingredients, i decided i would peek at the frozen section for a treat. i happened upon a sale on single
"kulfi" ice cream bars
($1.37) - the indian version of gelato. since my dinner was indian inspired, this seemed fitting. i chose a flavor i had never heard of, the "chikoo" fruit, which i am now learning (from
wikipedia
) is similar to a persimmon in the way that it can be extremely astringent and dry out the mouth when unripe (not pleasant, trust me), but incredibly sweet when ripe. so i'm about to go enjoy my treat and sack out on the couch. i found a picture online and i'm too lazy to get out my camera, so this will have to do: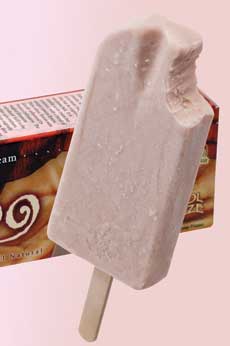 and today's totals:

7 starch
5.5 dairy
2.5 fruit
6 protein
3 veg
6 other

iwillnotfeelguiltyiwillnotfeelguilty.